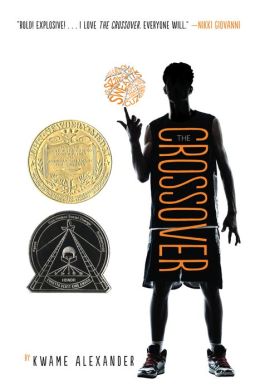 As I mentioned in an
earlier post
, Kwame Alexander won the 2015 Newbery Award for
The Crossover
. He worked on that book for years. Editors told him that a middle-grade book in verse would not sell. They passed on it time and time again. He went back and worked on it some more, cutting and adding scenes and characters. He was driven because he knew there were kids out there who shared in the experience of his young protagonists. He knew that this book was needed. It was an urging that led him to re-write it; to work with a freelance editor (on his dime); to revise it several times; and keep submitting it for publication. Last month his persistence paid off when it was recognized as one of the best children's books of the year. But it represents much more than the award. To Kwame, it speaks to how following his gut was the right move, even when publishers rejected the piece. It was the culmination of never giving up on those kids who need to see a kid like them making decisions that are impactful. It went beyond fulfilling a dream - it was personal and necessary for him to feel that he was writing the story that needed to be told.
When Kami Garcia and Margaret Stohl began writing
Beautiful Creatures
, they did it because a group of teens who were really into sci-fi, fantasy, magic and paranormal prose were tired of seeing the same types of characters in those books. The teens wanted more bad-ass female characters with real powers who could not only save themselves, but also save the males in the story. As a teacher of high school students with difficult behaviors, Kami often asked her students if they had any favorite books. Most said they hated to read and had never connected with a book. This broke her heart (as it does mine) and she introduced one student in particular to
Walter Dean Myers
' books. That student read the entire book that evening, then re-read it. He chose to read rather than go hang out outside the liquor store with his friends that night. His friends got arrested. Reading, had saved him.
He came to school the next day and wanted to know if there were more books like the one he read. Kami gave him another book by the same author. He devoured that one, too. Aside from opening his mind, she created a dialogue with him that no other adult had been able to do. She learned why he was so angry (he had good reason, as she shared but I won't go into), and that no one ever asked him why he reacted so severely when he got upset. She became his confidant. When hearing that students wanted more from the books they read, she kept that student in mind.
She wrote from her heart in the hopes that Beautiful Creatures would touch those students who needed it. She didn't intend for it to be published. In fact, she never really called it a book, but a story. It was the story that teens had told her they wanted to read. She had fun with it, incorporated themes and characters they were into, and took their feedback seriously. It began to get passed around and before she knew it, it had gone viral and was in the hands of students she had never met. They all wanted more (probably why the book is so long). She kept writing. It was a friend who referred her to an agent that got the book towards publication. Fast forward years ahead and it became a New York Times Bestseller and a movie was made in 2013. But Kami wasn't fully convinced she was on to something until she got a letter from a kid who told her that her book had saved his life. He was gay, but lived in a community where being different was not safe or accepted. On days when he felt like he couldn't stay in the closet a second longer, he'd pull out her book and read about how her characters were outcasts, too, and how they overcame to become heroes. They did not give up, and neither would he. That one letter spurred her to consider writing more novels. She is now the author of the Legion Series, spin-off books from Beautiful Creatures, short stories, and has tons of fans of all ages and backgrounds. But what she has that inspired me most, is a legacy.
Like Kwame and so many writers before them, Kami Garcia created something that will live beyond her time on this planet. People often talk about legacies and it has been a big part of my life since losing Warren. Time and time again I have thought about what I want my legacy to be. The answer is simple, yet so terrifying. I want my passion to make a difference. I don't need to sell thousands of copies of a book, or see my book become a movie. I want to get a letter, email, tweet, or whatever other form of communication kids are using by the time I'm published - that tells me that my words made them change in some way. That it helped them see or become the person they want to be. That it gave them hope, or encouraged them to be better than what society expects from them. If I never sell more than the one book that touches that one kid, I will be fulfilled. At the end of the day, it is not about how many books I write, or sell, but what those books do for the world that will determine how the world remembers me. I never want to take that lightly.